- Advertisement -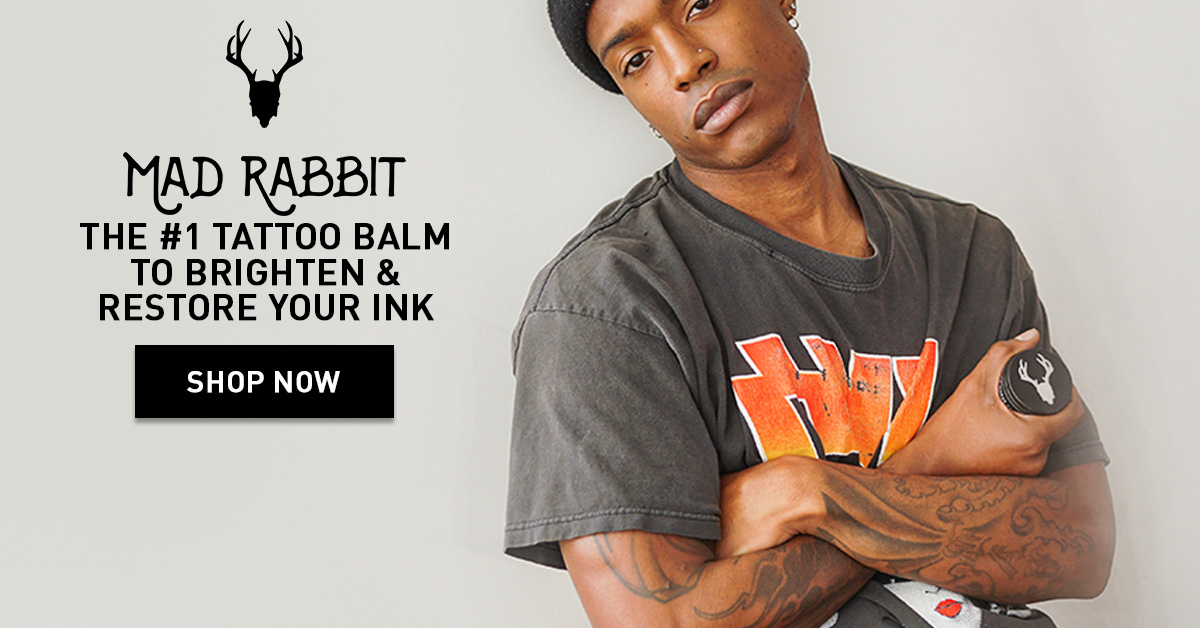 Rihanna has at least 25 tattoos on her body. She has confessed that tattoos are an addiction for her. Rihanna has stated, "I prefer hanging out at tattoo shops." "I'm fascinated by tattoos. It's a whole culture that I study. I go with friends or alone myself at times. I'm always rushing, but that doesn't bother me. "I'm not a fan of security." Rihanna is said to have gotten her first tattoo in 2006, which was two music notes on her foot. Bang Bang is the most well-known tattoo artist who designed her tattoos. Bang Bang is said to have done roughly 13 of her tattoos. He told a publication "When it's finished, she [Rihanna] always flips out and leaps up and down like a 16-year-old girl getting her first automobile."
1. Pisces (Ear)
RiRi's astrological sign, Pisces, is represented by the tattoo behind her ear. The vocalist of "Only Girl" was born on February 20, just two days after the Pisces season began. It was her very first tattoo. She was supposedly in Tokyo at the time and was just 17 years old, thus she required her guardian's permission. Fenty Beauty creator Rihanna phoned her mother, who was "surprisingly into it."
2. Star (Ear)
One of Rihanna's earliest tattoos is a star. She allegedly got the tattoo inside her left ear in 2006 while visiting her in NYC with a friend from Barbados because they "wanted to do something wild." Although the tattoo has faded with time, it is still visible and as charming as ever!
3. Stars (Back)
Her star tattoo went through several stages! It began as a little cluster of stars in her neck at first. In 2008, she had that part of her tattoo done in Los Angeles. She then had her favorite tattoo artist, BangBang, in New York add the stars that run down her back.
4. 'Rebelle Fleur' (Neck)
With this tattoo, Rihanna surprised French grammatical experts! Her neck tattoo says "rebelle fleur," and many chastised her for being drastically wrong, as nouns come before adjectives in the French language. According to the Los Angeles Times, the "Umbrella" singer was prepared for this and explained herself in a leaked letter to her tattoo artist. "Rebelle fleur" means rebel flower, not rebelious flower; there are two nouns here, thus fleur does not have to come first! "Just in case they inquire," the text stated.
5. XI.IV.LXXXVI (Shoulder)
Along with a photo of her rebelled fleur tattoo, Rihanna has a Roman number tattoo. The tattoo actually has a nice significance behind it. On The Ellen DeGeneres Show, Rihanna revealed that she had her closest friend Melissa's birthdate tattooed in Roman numerals. The figures date back to November 4, 1986. She also said that one of her friends got a tattoo with RiRi's birthdate written in numerals.
6. Cross (Collarbone)
In March 2012, the "SOS" singer got a modest Christian crucifix cross tattooed on her collarbone. Monica Fenty was nurtured in a Christian home by her pious mother Monica Fenty. She has never ceased practicing Christianity, even if she has struggled in her beliefs at times. "I've been at a position where I've felt like I've failed God so much that we're no longer as close," Rihanna said in an interview with Interview Magazine. "That actually happened to me when I was working on Anti." That was a difficult period for me, but thank God, I made it through."
7. 'Never A Failure Always A Lesson' (Shoulder)
Rihanna's right shoulder blade tattoo has a significant importance for her. "Never a failure, always a learning," it says. It's also spelled backwards, which is interesting. "That's my life philosophy," she told Access Hollywood the day after her tattoo was completed. "I wrote it backwards so I could read it to myself in the mirror," says the author.
8. Henna (Hand)
Rihanna has some stunning artwork on her hands, which has progressed over time. In 2011, she acquired the Chevron pattern on her right hand for the first time. In 2013, with the aid of her favorite tattoo artist Bang Bang, she opted to cover it with an exquisite henna pattern. "We wanted something incredibly beautiful, feminine, and sexual, therefore we took inspiration from henna painting." At the time, the tattoo artist told E! News, "We believed that was the closest in style where we could shift and make it appear ornamental."
9. Maori Tribal Print (Hand)
Rhianna's left hand featured similarly remarkable art that had faded with time. It all began with a tribal design on her thumb. In New Zealand, she obtained the tattoo using a mallet, pigment ink, and a chisel, as per Maori custom. She told People at the time, "It's tribal." "It is a symbol of power and love…. It's their typical tattooing style. I'd always wished for [one]. It was really painful!" In 2013, she returned to finish the job and completed the design throughout the remainder of her hand.
10. Shhh (Hand)
Rihanna has always been ahead of the curve, and her "Shhhh" tattoo is no exception. Around the time she got her finger tattoo in 2008, it was a major craze, and Lindsay Lohan and Lily Allen had both received the same tattoo. Bang Bang, her tattoo artist, described the skill required to create a finger tattoo and referred to his work on this one. "The "Shhh" tattoo is several years old, and it was done in one shot with no need for touch-ups. If you're contemplating about having a tattoo on your finger and have heard that they "fade" or "fall out," I'll answer, "Yes, they can fade throughout the healing process- however if done properly, they can be fantastic, and last a lifetime," he posted on Instagram.
11. Love (Hand)
Rihanna has a "Love" tattoo on her other hand that is quite similar to this one. Her love tattoo, written in cursive, is on her left hand's middle finger, on the same side as her heart. Meanwhile, the "Shhh" tattoo is on her right hand's index finger, nicely placed for when she has to silence someone.
12. Egyptian Goddess (Ribcage)
This absolutely lovely tattoo has an extremely nice sentiment behind it. The vocalist of "Rude Boy" received this tattoo in memory of her grandmother, who died of cancer in July 2012. "Goddess Isis – Complete Woman – Model for future generations – #GRANGRANDOLLY – always in and on my heart #1love," she wrote of the tattoo on Instagram of the time, as per THR.
13. Arabic Script (Ribcage)
Rihanna's Arabic tattoo reads "Al Hurria fi Al Maseeh," which translates to "Freedom in God." The singer has flaunted the tattoo several times, including on stage and while wearing Savage X Fenty lingerie.
14. Handgun (Ribcage)
The pistol tattoo on the "Please Don't Stop The Music" singer has a deeper meaning than her admirers first assumed. In an interview with Elle UK, she revealed that it was a sign of strength for her. "Everyone was curious about what was going on in my life. 'Does she have a drug problem?' No. Is she a boozehound? No. Is she a victim or a perpetrator? No.' That is why I purchased the firearm. It was a powerful symbol. In 2013, she told the magazine, "I'll never be a victim."
15. Egyptian Queen (Ribcage)
Rihanna has a tattoo of Nefertiti, the Egyptian queen, over her Arabic quote. "A lovely woman has come," Nefertiti implies. She was admired as a "powerful and autonomous personality" and remembered as a "uniquely strong queen" in addition to representing feminity and fecundity.
16. Sanskrit Prayer (Hip)
The lone hip tattoo on the "Diamonds" singer is an important one. Her Sanskrit tattoo not only symbolizes honesty and self-control, but it's also the first one Bang Bang ever gave her. "I was stunned when he wouldn't place my first tattoo where I wanted it—up the back of my leg—but I was so shocked that I was open to his notion of relocating it, and I'm glad I did," she said in an interview about the experience. "Because I didn't know anything about tattoos at the time, I trusted him as an expert more than I trusted myself." It's difficult to know who to trust when you're well-known, but I've trusted Bang Bang from the first time he tattooed me."
17. Tibetan Script (Butt)
RiRi's Tibetan tattoo is in a very enticing location! On her left buttocks, she only has one tattoo. The term means "lover" in English. Despite the fact that it's hidden, she flaunts it whenever she can when posing for her Savage X Fenty brand.
18. Falcon (Ankle)
The vocalist of "Take A Bow" has two animal tattoos on her body, both on her ankles. Her first illustration is of a bird. She had had a tattoo of music notes in 2006, and the falcon hides it. It appears that the singer made the right decision because the falcon has a special value for her. She explained to Oprah that the tattoo represents God. "Back in the day," she explained during the interview, "they would carve a falcon into the walls because they didn't have any method of declaring a king in the sky."
19. Shark (Ankle)
A adorable camo shark sits on her left ankle. Bang Bang, her favorite tattoo artist, gave her the tattoo in 2016. She got the tattoo to match her boyfriend at the time, Drake. Surprisingly, she has subsequently had this tattoo removed.
20. Crown (Ankle)
Her camo shark tattoo has been replaced with a crown-like design. When she was pictured with her current lover and baby daddy A$AP Rocky in 2021, E! News first noticed the alteration. Despite the fact that this is one of her most recent tattoos, she doesn't show it out very often.
21. 1988 (Ankle)
She has the year 1988 tattooed on her right ankle, along with her falcon. This tattoo, like all of her others, is significant since it commemorates the Grammy Award-winning singer's birth year of 1988.
22. Skull (Heel)
A skull and crossbones tattoo is on the back of the same ankle. This isn't your standard jolly roger skull, though. While a skull tattoo is typically associated with danger, this one has a red bow on top of its head, giving it a charming feminine touch.
23. Music notes (Foot)
Rihanna got two music notes tattooed on the inside of her right foot as her second tattoo. A treble clef and a sixteenth note are used. Her singing career, which she was only getting started with at the time, is thought to have motivated her. On May 31, 2006, she got the tattoo while in Australia for a performance at the Universal Music showcase. She maintained it for a long time, but in June 2012, she had it covered by a huge falcon.
24. Thug Life (Knuckles)
Rihanna had "Thug Life" tattooed on her knuckles in January 2012 as an homage to famous rapper Tupac Shakur. Mark Mahoney used semi-permanent white ink to create the tattoo. Rihanna flaunted her new tattoo in a photo on Twitter. It can be seen in a few images taken over the next few weeks, but it then vanished totally.
25. Chevron lines (Hand)
Rihanna expanded her hand tattoo in two sessions in October 2013. First she added these chevrons and lines all over her fingers, hand, and wrist. These lines are still visible through the finished tattoo.