- Advertisement -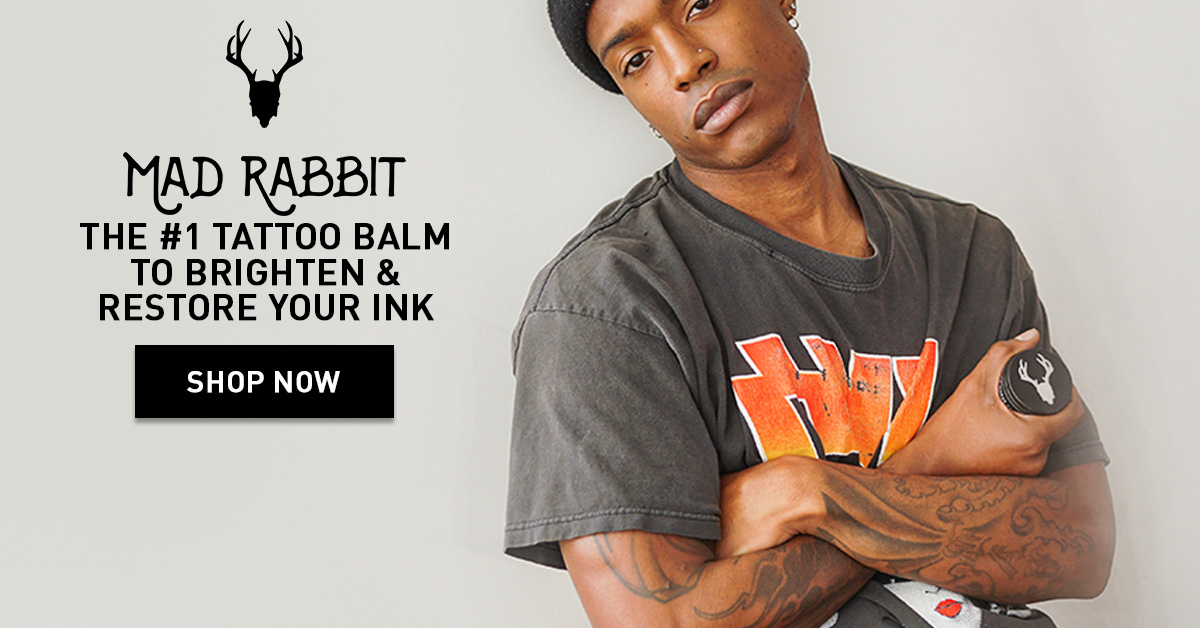 Not only is Halsey well-known for her music, but she's also well-known for her extensive tattoo collection. Over the years, the singer has made more then 30 tattoos and many of them have special meaning.
1. "929"
On Instagram in August 2019, Halsey posted a picture of a new tattoo that appears to indicate the release date of her third album. Halsey's right hand knuckles were tattooed with the number "929." However, it's not just any random number after some decoding fans discovered that the number is her birthday, which is September 29. Halsey captioned the Instagram post, "track 16," with a birthday cake emoji, to support the theory. Is this the beginning of a 16-track album? Possibly, but it's a cute tattoo regardless.
2. "Poor Thing"
Emily Malice, a London-based tattoo artist, inked Halsey's kneecap (ouch) in July 2019. In black, the words "poor thing" are written in the middle of two band-aids. Halsey has yet to explain the significance of the design, but we do know that it was extremely painful. After getting her entire kneecap tattooed, "I'm officially not afraid of anything," she tweeted.
3. "Nightmare"
In May 2019, Halsey released her single "Nightmare," which marked the beginning of a darker era for the singer. Women are depicted as submissive in the lyrics of the feminist anthem. A black ink tattoo on Halsey's neck reading "Nightmare" marked the beginning of a new chapter in her life. Despite the fact that she made the announcement in May, the tattoo was actually completed in January 2018.
4. Libra's "Sins" and "Forgiveness" scales
No one would have guessed that Halsey was getting a new tattoo just moments before performing with Lil Wayne on Saturday Night Live in November 2018. To pay homage to their shared sign of Libra, Lil Wayne created the artwork. "Sins" and "forgiveness" are written in Lil Wayne's handwriting on either side of the scale (the Libra symbol), which is on her right arm. The tattoo is a nod to Lil Wayne's lyrics on "She Will" with Drake.
5. Butterfly
The butterfly tattoo on Halsey's right forearm is extremely detailed. Her 2017 album, hopeless fountain kingdom, has been linked to a black design and the singer has spoken publicly about her admiration for the creatures – once even severing her toe in order to save one.
6. Face of Marilyn Manson
Halsey decided to get a tattoo of one of her most important musical influences, Marilyn Manson, on her ribcage. On her right side, she has a tattoo that depicts Manson's face in black, including his trademark dark lipstick and arched brows.
7. Diamond Queen
Halsey got her first (and final) face tattoo in June of this year. Just above her left ear, the Queen of Diamonds is tattooed in red. NAL, a tattoo artist in Los Angeles, had the honor of tattooing Halsey, and she expressed her gratitude for the experience on Instagram.
8. "The Crazy Kind"
Halsey got a tattoo of the line "Him & I" from her 2017 collaboration with G-Eazy on her wrist. Halsey refers to their relationship as "the crazy kind" of love in the song's duet. On her left wrist, she had "The Crazy Kind" tattooed in a simple black font.
9. Barbed Wire
The Crazy Kind" tattoo was covered up by Halsey after her breakup. Halsey, on the other hand, wears a band of barbed wire around her left wrist.
10. "I'm a loser baby"
Halsey revealed in January of this year that she had acquired yet another ink design inspired by her love of music. To update her look, tattoo artist JonBoy inked the words "I'm a loser baby" in a delicate font on her neck.
11. Playboy Jeans
Playboy's September/October 2017 Music Issue featured Halsey on the cover, so she decided to commemorate the occasion by getting a Playboy tattoo. The backside of a pair of Levi's red tag jeans with the Playboy bunny logo on the pocket is depicted in Halsey's tattoo.
12. "Brat"
Halsey has "BRAT" scrawled in a graffiti-style font on her right forearm. Singer revealed that her parents were the driving force behind her decision in May 2017 to get inked with the word.
13. "Heaven in Hiding"
Tattooed on her forearm was a handwritten style font of the song 'Heaven In Hiding' in a diagonal angle. Hopeless Fountain Kingdom is the name of her album.
14. Dice
A surprise appearance by Halsey at LANY's Minneapolis show in November 2016 made headlines. To top it all off, she got matching tattoos with LANY frontman Paul Klein by Brent Bartel at Leviticus Tattoo to commemorate the night. There were two dice etched into Halsey's left arm, while Paul had the same design on his right elbow. A guide to the art of rock'n'roll.
15. "Baby"
"Baby" is tattooed on Halsey's lower stomach just above her bikini line. Despite the fact that no one knows what this inking means, it's adorable.
16. Anchor
On her right foot, Halsey has a tattoo of an anchor with a banner and a heart. Her mother's initials, "NCF," appear in the banner. It was done when Halsey was 16 years old and her mother Nicole Frangipane has the same design. When Halsey asked her mother for the ink, she appears to have used it as a "fear tactic," which backfired..
17. Dagger
When Halsey was 16, she had a dagger tattooed on her thigh. It has a banner with the number "13" emblazoned on the blade, in blue and red ink. Halsey revealed to iHeartRadio that the song is dedicated to the memory of a friend who passed away.
18. Roses
Halsey's right shoulder is inked with the outlines of two roses. One of her most prized tattoos is one that she got at just 17 years old, and she's been debating whether or not to fill in the outline since 2013.
19. "Ferox"
Black ink is tattooed across Halsey's inner left thigh with the word "FEROX" capitalized. Ferox is a Latin word that means "wild, courageous, and spiritable" in English. After "a lot of vodka," Halsey's friend used a sewing needle and India ink to ink the tattoo on her leg in October 2012.
20. "17"
She became Halsey in March 2013 and got her lucky number "17" inked on her knuckles. On Halsey's right hand, she has a tattoo on her middle and index fingers.
21. "511"
In August 2013, Halsey got a tattoo of her brother Sevian Frangipane's birthday on the back of her arm, near her elbow. Halsey got a "511" (May 11) tattoo as a reminder of the day she was born on.
22. Star Wars Mythosau
When she was in her early twenties, Halsey tattooed the face of the Star Wars alien species Mythosaur on her right elbow. In the Star Wars universe, it's also the Mandalorian people's badge of honor. In honor of Halsey's love of Star Wars movies, artist Darci Munster created this skeleton-style design.
23. Om
In August 2013, Halsey got a tattoo of the Om symbol on her forearm. In Hinduism, Buddhism, and Jainism there is a symbol and a sound, but the meaning is different. Most people consider this sound to be divine.
24. "Serendipity"
Serendipity, Halsey's ribcage tattoo that she's had since July 2014, is probably already familiar to you. In a black font, Halsey's tattoo adorns her left side. Her mother also has a Serendipity tattoo, and this one matches her daughter's.
25. Music Notes
Halsey's left upper arm has a tattoo of music sheets. The four complete notes, on the other hand, aren't from any old track. They're a trademark of producer Lido and can be heard in some of Halsey's music, as well as other songs he has produced.
26. "Everything"
A minimalist portrait with the word "EVERYTHING" written beneath it can be found on Halsey's left upper arm. In November 2015, Halsey had the ink done, and it was inspired by Lido's Everything album (2016).
27. "XXX"
During the summer of 2014, Halsey had a simple "XXX" tattooed near her thumb on the back of her right hand. There are actually two meanings to this adorable tattoo. "My grandma used to do x's for my brothers and I, so it's me and my two brothers," she told iHeartRadio. "But it kind of turned into a different meaning, because it almost means like a parental advisory."
28. "These violent delights have violent ends"
This line was tattooed on Halsey's forearm in July 2014. As a Shakespeare fan, Halsey explained to iHeartRadio that she wanted the tattoo to serve as a warning to others not to act violently for fear of the consequences.
29. Upside-down horseshoe
It is said that Halsey's horseshoe tattoo on her upper body is a symbol of luck being drained away. A pair of flowers sits on either side of the design, which was created in September 2014. It was done by Joshua Marks, a tattoo artist known for doing horseshoes that are turned on their side.
30. Elements from "The Little Prince" (cactus, volcano, fox, rose)
Halsey, a voracious reader, was clearly moved by The Little Prince (1943), as evidenced by the symbols she incorporated into her next ink. The cactus, volcano, fox, and rose all appear on Halsey's thigh tattoo in black ink.
31. Kiss
The second minimalist design by Halsey depicts a kiss between two people. In August of last year, Halsey received an edgy tattoo from artist Curt Montgomery. He has yet to reveal who the kissing figures are or the meaning behind their appearance.
32. "Hopeless"
It is written in capital letters on the left side of Halsey's back, near her butt cheek. The artist who did her thigh tattoo of a kissing couple is also the one who did this one, and she had both done at the same time. Her second studio album, hopeless fountain kingdom, is referenced in the song "Hopeless".
33. Mars
It was July 2015 when Halsey got a Venus and Mars tattoo on her elbow with her best friend Sean. In response to a fan question on social media, she explained the significance of the tattoo. He is an Aries, so his ruling planet is Mars, and she is a Taurus, so hers is Venus. They both share the same birthday, which happens to fall on the same day of the year.
34. Matchsticks
During a meeting in May 2015, Halsey randomly selected three fans to get matching tattoos with her. Halsey promised the four of them that when they believe they have reached their full potential, they will have flames tattooed above an unlit matchstick he had tattooed on their forearms as a symbol of their potential.
35. Knife with a belt
Halsey's right ankle was tattooed with a knife and a belt by artist Emily Malice in September 2014. The handle of the knife has a flower design on it, but she hasn't revealed what it represents.
36. Nike Air Jordan
Halsey, on the other hand, is clearly a huge fan of her trainers. Immediately above her music score tattoo on her arm, the singer inked Nike Air Jordan sneakers in black and red ink in August 2018. Curt Montgomery, a Toronto tattoo artist, previously inked Halsey's kissing lovers tattoo in 2014.
37. Sparkles
Halsey, who recently shaved her head, has now inked a skull on her back. Just above her right ear, the singer now sports two sparkling symbols on her scalp. As she captioned her Instagram post, "finally did it," it appears she had been planning it for some time. The artist, n.a.l, is based in Los Angeles and also did the Queen of Hearts face tattoo for the model.
38. Illustration by Bjenny Montero
Halsey also got a new tattoo on her right forearm – just above her "BRAT" ink – as well as a new head tattoo. One of Bjenny Montero's most well-known characters now graces Halsey's body in the form of a tattoo. "I wonder if they'll remember me," reads a speech bubble next to the bird-like character.
39. "Seeds"
The meaning behind Halsey's tattoo of the word "seeds" on her left foot is just too cute. Amanda Owley, a tattoo artist, completed the design in June 2020, matching her boyfriend Alev Aydin's ink. All the signs pointed to the best time to plant seeds into life's ground, according to Halsey's interpretation of how planets and the cosmos were aligned at the time.